Welcome to Kitakubu Katsudou Kiroku Wiki!

The unofficial wiki for the Kitakubu Katsudou Kiroku manga and anime series adaptation.
This is a recently resumed project, so please help out by adding new articles, editing content and suggesting formats.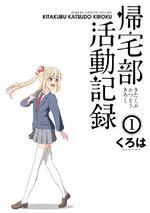 Chronicles of the Going Home Club (帰宅部活動記録, Kitakubu Katsudou Kiroku) is a manga written and illustrated by Kuroha. The 5 volume manga series was published by Square Enix's Gangan Online between August 18, 2011 and June 26, 2014. An anime adaptation based on the series was aired between July 4, 2013 and October 11, 2013, produced by Studio Nomad.
🌸 Anime Episode 08
🌸 Manga Volume 05
🌸 Manga Volume 04
🌸 Manga Volume 03
🌸 Manga Volume 02
🌸 Manga Volume 01

Did you rewatch the anime recently?